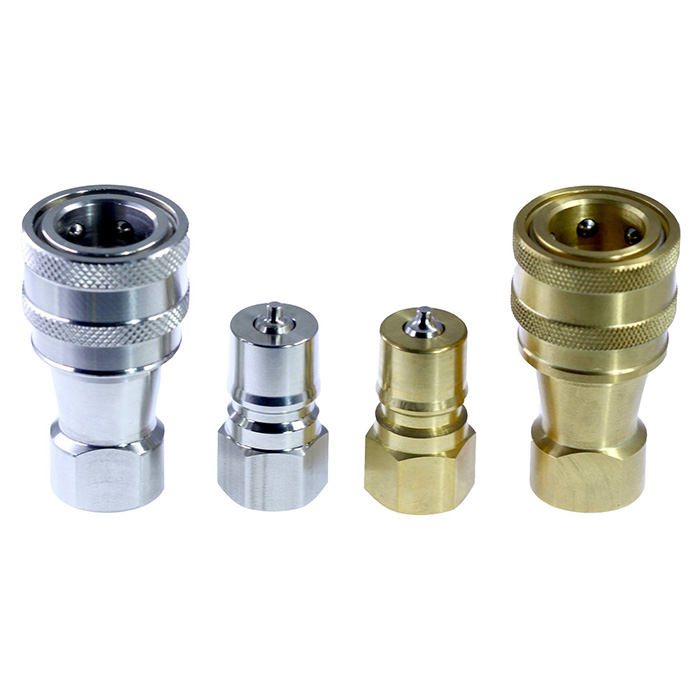 Two-Way Shutoff Quick Couplings
The Two-way Shutoff Quick Coupling, also referred to as a Double Shutoff Quick Release Coupling or Two-way Quick Connect Coupling, is meticulously crafted for applications involving frequent pipe assembly and disassembly, with a primary focus on minimizing fluid loss during disconnection. Each quick coupling set undergoes rigorous leak testing to ensure its integrity. Crafted from stainless-steel bar stock, every component is precision-machined to exacting standards. The seals incorporated in the design are engineered to endure high pressures, delivering steadfast and dependable sealing performance.

A standout feature of this coupling is its automatic aligned valve mechanism. When the plug and socket are disconnected, this mechanism seamlessly restores itself to the original position prior to connection. This not only enhances the sealing efficiency of the socket but also streamlines the reconnection process.
---
Two-way Shutoff Quick Couplings refer to couplings where the valves within both the socket and the plug operate in an automatic manner. These valves open upon connecting the plug and socket and close automatically upon disconnection. CHIBIN offers Two-way Shutoff Quick Couplings in two material options: Brass and Stainless Steel. This range includes both General and Grease types, catering to diverse applications.

These couplings find suitability across a wide spectrum of industries including agriculture, hydraulic tools, construction, fluid conveyance, transportation, chemical engineering, oil and gas, food and beverage, trucking, as well as general industrial applications.
Our Strenghs
A full range of standard fittings in stock to meet your urgent needs
High Quality and competitive price
Provide the design, production, and assembly of custom products
Good service attitude, flexible communication
A wide range of product lines
Specification
Connection Type: Female Thread
Structure Material & Seal Material: SUS304-Viton; Brass-NBR
Customize is acceptable.
Thread List
M-ISO THREAD(METRIC) & UN/UNF/UNEF & PF(G)THREAD

Download
Two-Way Shutoff Quick Couplings - Hydraulic two-way shutoff quick couplings. | Stainless Steel Fittings for Medical and Semiconductor Sectors Manufacturer | CHIBIN Machine Co., Ltd.
Based in Taiwan since 1980, CHIBIN Machine Co., Ltd. has been a stainless steel pipe fittings manufacturer. Their main pipe and tube fitting products, include Two-Way Shutoff Quick Couplings, tube fittings, compression fittings, rapid pneumatic fittings, push-in pneumatic fittings, hydraulic fittings, high pressure pipe fittings, quick couplings, nozzle and needle valves, which are specialized in medical and semiconductor sectors.
We have fourteen categories of standard products which have been highly recommended by the customers. Especially tube fittings, quick couplings and push-in pneumatic fittings are with international competitiveness and many foreign buyers continuously place orders. Pipe Fittings that are ISO certified and TTQS awarded. Internal standards using random inspection based on the U.S. military MIL-STD-105E specifications. More than 10,000pcs of standard products are in ready stock. Custom products are up to 3,000pcs. CHIBIN Machine provides one-stop service in developing, designing, manufacturing, and assembling, as well as custom solutions to achieve high standards from worldwide clients.
CHIBIN Machine has been offering customers high-quality pipe and tube fittings since 1980, both with advanced technology and 40 years of experience, CHIBIN Machine sures each customer's demands are met.