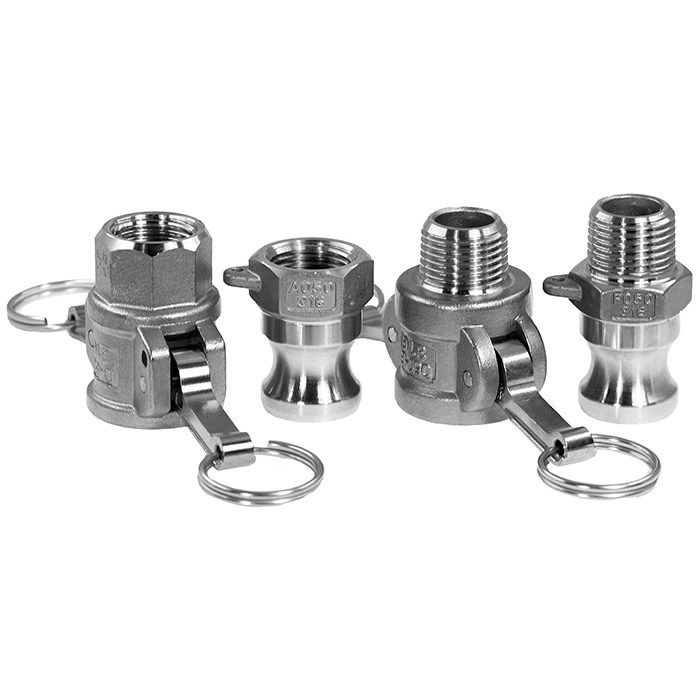 Camlock Quick Coupling
Camlock Quick Couplings are also known as hose quick release couplings, hose quick to connect couplings and handheld hose quick couplings. Camlock Couplers are low pressure quick disconnect couplings that are used to conveying water, oil, mining, and construction. Camlock adopts the cam design on the socket and groove design on the plug with internal seal to reach the excellent seal and the easy and reliable connection and disconnection. Camlock Quick Coupler is constructed with two parts - female socket and male plug. Male adapter and female coupler are non-valve design to flow at maximum rate. It is compliant with international standard MIL A-A-59326A
---
Camlock Quick Couplings are available in four materials-stainless-steel, aluminum, brass, and plastic (containing 25% glassfiber to strength toughness). see below environmental recommendation for the use of different material.
1. Stainless-steel: Chemical, petroleum, and food processing sectors so on industries.
2. Aluminum: Agricultural drainage and irrigation.
3. Brass: Water, oil, mining industries.
4. Plastic (PP): Agriculture and chemical industries.
** Plastic material is suitable for water or air only.
Our Strenghs
A full range of standard fittings in stock to meet your urgent needs
High Quality and competitive price
Provide the design, production, and assembly of custom products
Good service attitude, flexible communication
A wide range of product lines
Specification
Connection Type: Male Thread, Female Thread, Hose, Dust Caps and Plugs
Structure Material: SUS304, SUS316, Aluminum, Brass, PP
Seal Material: VITON, NBR, Silicone
Thread List
M-ISO THREAD(METRIC) & UN/UNF/UNEF & PF(G)THREAD

Download
Camlock Quick Coupling - Camlock Quick Couplings. | Stainless Steel Fittings for Medical and Semiconductor Sectors Manufacturer | CHIBIN Machine Co., Ltd.
Based in Taiwan since 1980, CHIBIN Machine Co., Ltd. has been a stainless steel pipe fittings manufacturer. Their main pipe and tube fitting products, include Camlock Quick Coupling, tube fittings, compression fittings, rapid pneumatic fittings, push-in pneumatic fittings, hydraulic fittings, high pressure pipe fittings, quick couplings, nozzle and needle valves, which are specialized in medical and semiconductor sectors.
We have fourteen categories of standard products which have been highly recommended by the customers. Especially tube fittings, quick couplings and push-in pneumatic fittings are with international competitiveness and many foreign buyers continuously place orders. Pipe Fittings that are ISO certified and TTQS awarded. Internal standards using random inspection based on the U.S. military MIL-STD-105E specifications. More than 10,000pcs of standard products are in ready stock. Custom products are up to 3,000pcs. CHIBIN Machine provides one-stop service in developing, designing, manufacturing, and assembling, as well as custom solutions to achieve high standards from worldwide clients.
CHIBIN Machine has been offering customers high-quality pipe and tube fittings since 1980, both with advanced technology and 40 years of experience, CHIBIN Machine sures each customer's demands are met.