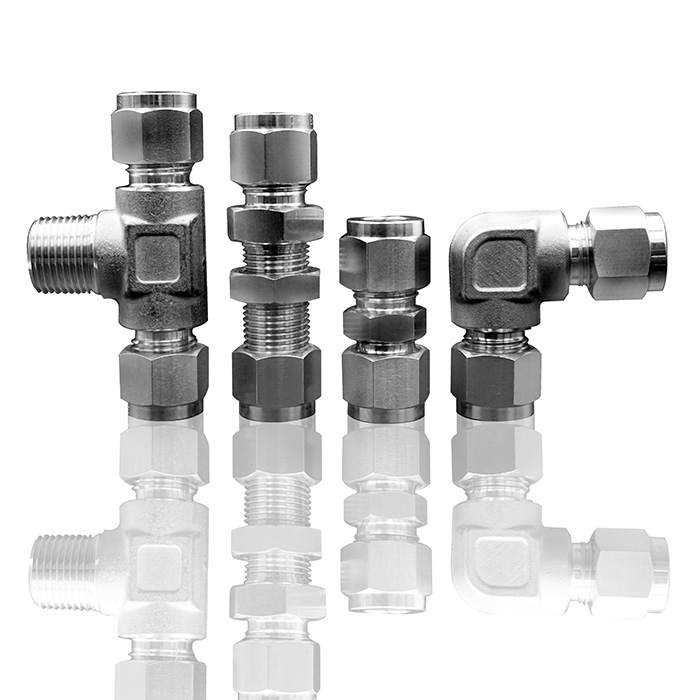 Tube Fittings - Double-ferrules
Stainless Steel Tube Double Ferrules Tube Fittings.
CHIBIN Tube Fittings are designed to connect metal or hard plastic tubing. Our Tube Fittings are widely used in instrumentation, equipment, liquid and gas tubing. Tube Fittings made of 316 stainless steel feature high corrosion and high temperature resistance to bear aggressive fluid and the extreme temperatures surroundings. Thanks to their reliability, and hygiene, Tube Fittings are commonly found in food processing and medical equipment subject to special treatment.
---
The front and back ferrules form robust bonding, resulting in effective deformation. The geometric shape of the back ferrule helps to produce the clamp effect, which can transform the axial movement into a radial extrusion effect, so only a small torque is required to install it during operation. Nut threads are electroplated to prevent wear and improve smoothness for easier and installation. The sealing part is precision machined to ensure air tightness.
Our Strenghs
A full range of standard fittings in stock to meet your urgent needs
High Quality and competitive price
Provide the design, production, and assembly of custom products
Good service attitude, flexible communication
A wide range of product lines
Thread List
M-ISO THREAD(METRIC) & UN/UNF/UNEF & PF(G)THREAD

Download
40-Year Tube Fittings - Double-ferrules Manufacturer - CHIBIN Machine
Based in Taiwan, CHIBIN Machine Co., Ltd., since 1980, is a Tube Fittings - Double-ferrules | stainless steel pipe fittings supplier. Specialized in medical and semiconductor industries and the main products, including tube fitting, compression fitting, rapid pneumatic fitting, push-in pneumatic fitting, hydraulic fitting, high pressure pipe fitting, quick coupling, nozzle, needle valve, etc.
Pipe Fittings that are ISO certified and TTQS awarded. Internal standards using random inspection based on the U.S. military MIL-STD-105E specifications. More than 10,000pcs of standard products are in ready stock. Custom products are up to 3,000pcs. CHIBIN Machine provides one-stop service in developing, designing, manufacturing, and assembling, as well as custom solutions to achieve high standards from worldwide clients.
CHIBIN Machine has been offering customers high-quality pipe and tube fittings since 1980, both with advanced technology and 40 years of experience, CHIBIN Machine sures each customer's demands are met.