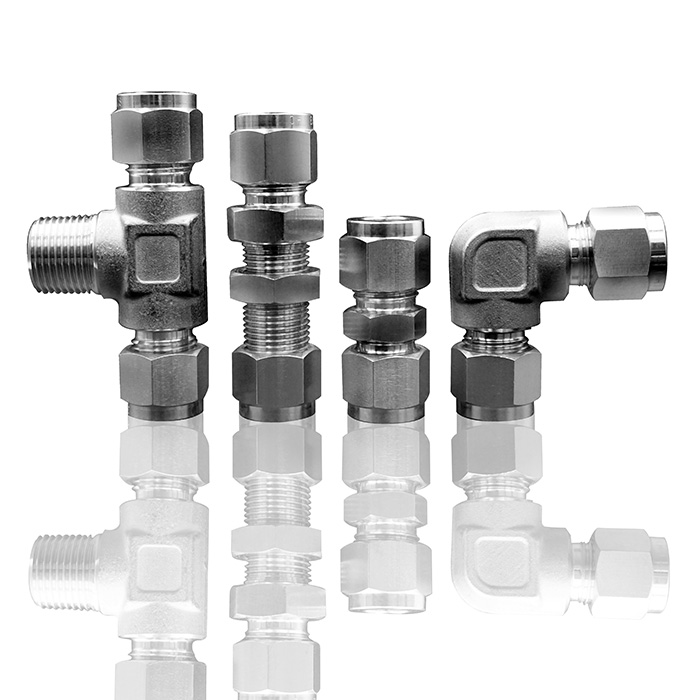 Tube Fittings - Double-ferrules
Stainless Steel Tube Double Ferrules Tube Fittings.
316 stainless steel double-ferrule tube fittings are a popular type of mechanical fitting used in various industries, including pharmaceuticals, food processing, and marine applications. These fittings are made from high-quality 316 stainless steel, which offers superior resistance to corrosion, high temperatures, and harsh chemicals. The double-ferrule design of these tube fittings ensures a secure and leak-tight seal, providing enhanced safety and reliability in critical applications. They are easy to install, dismantle, and reassemble, making them an ideal choice for applications that require frequent maintenance or repair. If you're looking for a durable and corrosion-resistant tube fitting solution, 316 stainless steel double-ferrule tube fittings are an excellent choice to consider.
---
Straight adapters are made from high-quality 316 stainless steel bar stock. Our 316SS forging blank includes elbows and tees, while other shaped connectors may utilize stainless steel squared plates.

Our front and back ferrules form a robust bond, resulting in highly effective deformation. The unique geometric shape of the back ferrule helps to produce a powerful clamp effect, converting axial movement into a radial extrusion effect. This means that only a small amount of torque is required for installation during operation. Our nut threads are electroplated to prevent wear and improve smoothness, ensuring that installation is a breeze. We precision-machine the sealing part to guarantee maximum airtightness.

316 stainless steel double-ferrule tube fittings can also be called compression fittings, twin-ferrule fittings, or double-ferrule fittings. They are also sometimes referred to as instrumentation fittings, as they are commonly used in the instrumentation and process control industries for their reliability and ease of use in high-pressure and high-temperature applications.
Additionally, we offer a nut specifically designed for use with imperial unit wrenches. Choose our straight adapters for top-quality performance and long-lasting reliability.
Our Strenghs
High quality products offered at competitive prices
Custom product design, production, and assembly services available
Good service attitude with flexible communication to ensure customer satisfaction
Wide range of product lines available to meet various needs
Thread List
M-ISO THREAD(METRIC) & UN/UNF/UNEF & PF(G)THREAD

Download
Tube Fittings - Double-ferrules - Stainless Steel Tube Double Ferrules Tube Fittings. | Stainless Steel Fittings for Medical and Semiconductor Sectors Manufacturer | CHIBIN Machine Co., Ltd.
Based in Taiwan since 1980, CHIBIN Machine Co., Ltd. has been a stainless steel pipe fittings manufacturer. Their main pipe and tube fitting products, include Tube Fittings - Double-ferrules, tube fittings, compression fittings, rapid pneumatic fittings, push-in pneumatic fittings, hydraulic fittings, high pressure pipe fittings, quick couplings, nozzle and needle valves, which are specialized in medical and semiconductor sectors.
We have fourteen categories of standard products which have been highly recommended by the customers. Especially tube fittings, quick couplings and push-in pneumatic fittings are with international competitiveness and many foreign buyers continuously place orders. Pipe Fittings that are ISO certified and TTQS awarded. Internal standards using random inspection based on the U.S. military MIL-STD-105E specifications. More than 10,000pcs of standard products are in ready stock. Custom products are up to 3,000pcs. CHIBIN Machine provides one-stop service in developing, designing, manufacturing, and assembling, as well as custom solutions to achieve high standards from worldwide clients.
CHIBIN Machine has been offering customers high-quality pipe and tube fittings since 1980, both with advanced technology and 40 years of experience, CHIBIN Machine sures each customer's demands are met.