Y Strainer
Y
Female Thread Y Strainer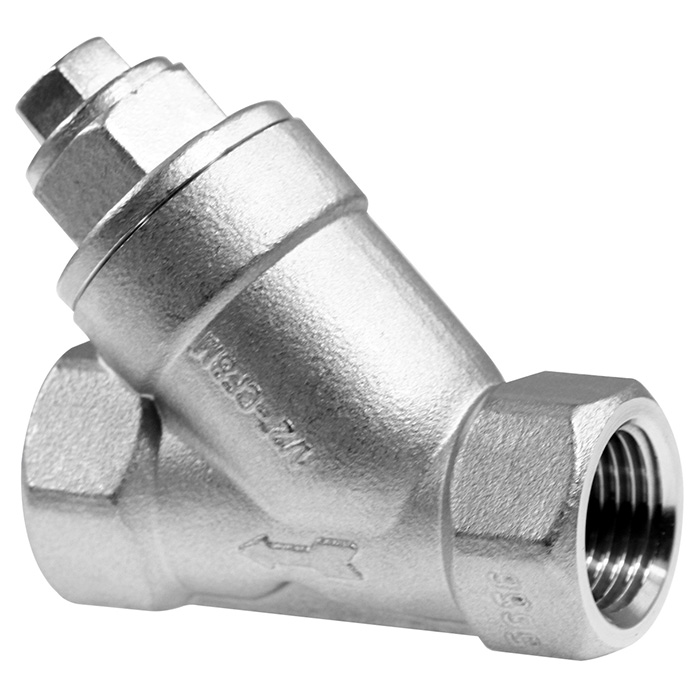 Y strainer is designed to filter the dust and dirt from steam and to clean particles from liquids and gases pipelines.

Y Strainer extends the service life and rise the reliability for mechanical systems. Its filter feature provides excellent protection for the solenoid valve. It also provides a good protection for water pump, turbine, nozzles, heat exchanger, condenser, drain valve and instruments so on. Filter and mesh are also key components.
Features
Stainless steel single layer of mesh, Y-shape design ensure to flow thoroughly.
Sturdy, durable, easy to maintain, and easy to clean.
Material: SUS316
Special mesh demands, please contact CHIBIN.
Technical Data
Working Pressure: 800psi (57kgf/cm²)
Working Temperature: -25°C ~ +180°C
Thread Size: 1/4" ~ 3" PT
Seal / Packing: PTFE
Specification
Y Y Strainer
Part No
Thread Size
P - PT
Y06T
1/4"
Y10T
3/8"
Y15T
1/2"
Y20T
3/4"
Y25T
1"
Y32T
1 1/4"
Y40T
1 1/2"
Y50T
2"
Y65T
2 1/2"
Y75T
3"
Press Release
2020 Healthcare Expo

Healthcare Expo Taiwan is the first professional expo which connects various sectors such as medical, electronic, biotechnology, and pharmaceuticals.

Read More

Taichun Machine Tool

This exhibition will fully present the domestic machinery industry, industry 4.0 and smart machinery energy and industrial chain.

Read More

International Water

Due to the relevant issues of water across the world, CHIBIN will participant in 2020 Taiwan International Water Week to contribute to the society.

Read More