Stainless-steel Push-in Pneumatic Fittings Bulkhead Union
PBU
SUS304 Push to Connect Pneumatic Fitting, One Touch Pneumatic Fitting
Push-in Pneumatic Fittings Bulkhead Unions are widely used in liquid and gas tubing. It is suitable for all kinds of thermoplastic tube, such as Nylon, PU, PE, PP tube. In general, it is suitable for component assembly of instrumentation and equipment under 10kg.
Push-in Pneumatic Fittings Bulkhead Unions present straight shape. Two ends adapt the special internal structure and NBR seal to make soft tube connection. Push-in Pneumatic Fittings Bulkhead Unions are used for connection and disconnection of the thermoplastic tube to achieve a free flow of liquid or gas. Also used as the diversion port in pipelines.

Push-in Pneumatic Fittings Bulkhead Unions are constructed of stainless-steel body, NBR seal (or another selection of Viton), retaining claw, claw seat, and release ring. CHIBIN Push-in Pneumatic Fittings Bulkhead Unions feature a unique leakage-free sealing design, easy connection and use, as well as space-saving.
Features
Leak-free sealing technology.
Fast installation.
Easy use.
Space-saving.
Material: SUS304, SUS316 (Corrosive resistance)
Technical Data
Working Pressure: 10 kgf/cm² *
Working Temperature: -20°C ~ 80°C *
Suitable OD: 4 ~ 12 mm
Thread: PT, NPT, M
The suitability of fittings depends on the plastic tube type and outside diameter.
Application
Suitable for Component Assembly of Instrumentation, Food, Chemical, Petrochemical Industries, Water Treatment, Medical Equipment and Agriculture Machines.
Dimension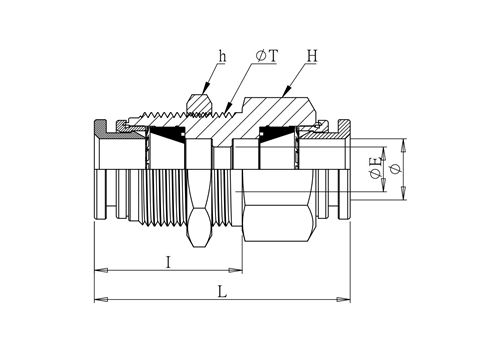 Specification
PBU Push-in Pneumatic Fittings Bulkhead Union
Part No
Tube OD
Panel Hole Size
Dimensions
H
Ø
Ø T
Ø E
I
L
PBU06M
6
14.5
4
22.05
36.8
17
17
PBU08M
8
16.5
6
23.85
40.2
19
19
PBU10M
10
19.5
8
28.45
47.9
22
22
PBU12M
12
22.6
9
29.7
51.4
25
27
Related Products

Files Download
Thread List
M-ISO THREAD(METRIC) & UN/UNF/UNEF & PF(G)THREAD
Download
Stainless-steel Push-in Pneumatic Fittings Bulkhead Union - SUS304 Push to Connect Pneumatic Fitting, One Touch Pneumatic Fitting | Over 40 Years Tube/Pipe Fittings for Medical & Semiconductor Industry Manufacturer | CHIBIN Machine Co., Ltd.
Based in Taiwan since 1980, CHIBIN Machine Co., Ltd. has been a stainless steel pipe fittings manufacturer. Their main pipe and tube fitting products, include Stainless-steel Push-in Pneumatic Fittings Bulkhead Union, tube fittings, compression fittings, rapid pneumatic fittings, push-in pneumatic fittings, hydraulic fittings, high pressure pipe fittings, quick couplings, nozzle and needle valves, which are specialized in medical and semiconductor sectors.
We have fourteen categories of standard products which have been highly recommended by the customers. Especially tube fittings, quick couplings and push-in pneumatic fittings are with international competitiveness and many foreign buyers continuously place orders. Pipe Fittings that are ISO certified and TTQS awarded. Internal standards using random inspection based on the U.S. military MIL-STD-105E specifications. More than 10,000pcs of standard products are in ready stock. Custom products are up to 3,000pcs. CHIBIN Machine provides one-stop service in developing, designing, manufacturing, and assembling, as well as custom solutions to achieve high standards from worldwide clients.
CHIBIN Machine has been offering customers high-quality pipe and tube fittings since 1980, both with advanced technology and 43 years of experience, CHIBIN Machine sures each customer's demands are met.