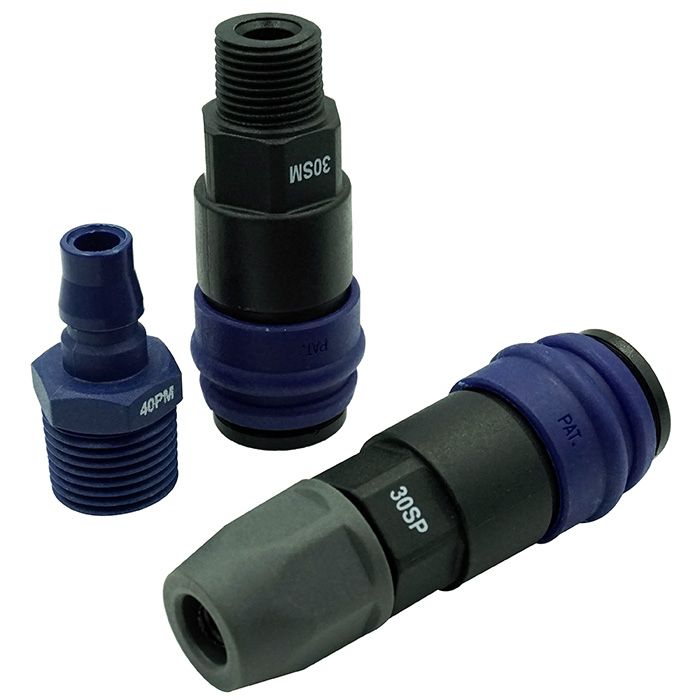 One Touch Type - Nylon66+GlassFiber
One Way Shutoff Quick Coupling, also known as quick connect and disconnect coupling, includes One Touch Type and Traditional Type. One Touch Type is classified to Safety Series, Mini Series, Stainless Steel/Steel Series, and Nylon66+GlassFiber Series. In this page, Nylon66+GlassFiber Series of One Touch Type will be introduced. The quick coupling improves the traditional structure, just insert the plug into the socket. It's convenient for connecting or disconnecting in the places where are narrow or difficult to touch. Also, quick connect coupling made in nylon66+GlassFiber features light weight, drop resistant, good ductility and not easy to oxidize.
---
Thread List
M-ISO THREAD(METRIC) & UN/UNF/UNEF & PF(G)THREAD

Download
40-Year One Touch Type - Nylon66+GlassFiber Manufacturer - CHIBIN Machine
Based in Taiwan, CHIBIN Machine Co., Ltd., since 1980, is a One Touch Type - Nylon66+GlassFiber | stainless steel pipe fittings supplier. Specialized in medical and semiconductor industries and the main products, including tube fitting, compression fitting, rapid pneumatic fitting, push-in pneumatic fitting, hydraulic fitting, high pressure pipe fitting, quick coupling, nozzle, needle valve, etc.
Pipe Fittings that are ISO certified and TTQS awarded. Internal standards using random inspection based on the U.S. military MIL-STD-105E specifications. More than 10,000pcs of standard products are in ready stock. Custom products are up to 3,000pcs. CHIBIN Machine provides one-stop service in developing, designing, manufacturing, and assembling, as well as custom solutions to achieve high standards from worldwide clients.
CHIBIN Machine has been offering customers high-quality pipe and tube fittings since 1980, both with advanced technology and 40 years of experience, CHIBIN Machine sures each customer's demands are met.