Stainless-steel Push-in Pneumatic Fittings Male Elbow
PME
Push to Connect Pneumatic Fitting, One Touch Pneumatic Fitting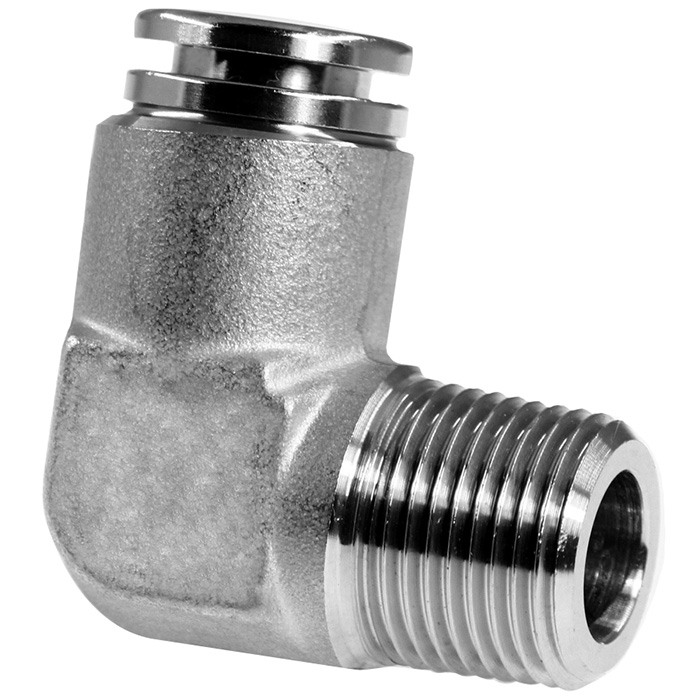 Push-in Pneumatic Fittings Male Elbows are widely used in liquid and gas tubing. It is suitable for all kinds of thermoplastic tube, such as Nylon, PU, PE, PP tube. In general, it is suitable for component assembly of instrumentation and equipment under 10kg.
Push-in Pneumatic Fittings Male Elbows present 90-degree shape. Female Elbows are designed to enable liquid and gas to change to 90-degree direction of flow. The special internal structure and NBR seal are used to make soft tube connection. Another end is male thread.

Push-in Pneumatic Fittings Male Elbows are constructed of stainless-steel body, NBR seal (or another selection of Viton), retaining claw, claw seat, and release ring. CHIBIN Push-in Pneumatic Fittings Male Elbows feature a unique leakage-free sealing design, easy connection and use, as well as space-saving.
Features
Leak-free sealing technology.
Fast installation.
Easy use.
Space-saving.
Material: SUS304, SUS316 (Corrosive resistance)
Technical Data
Working Pressure: 10 kgf/cm² *
Working Temperature: -20°C ~ 80°C *
Suitable OD: 4 ~ 12 mm
Thread: PT, NPT, M
The suitability of fittings depends on the plastic tube type and outside diameter.
Application
Suitable for Component Assembly of Instrumentation, Food, Chemical, Petrochemical Industries, Water Treatment, Medical Equipment and Agriculture Machines.
Specification
PME Push-in Pneumatic Fittings Male Elbow
Part No
Tube OD
Thread Size
Dimensions
h
Ø
P-PT
Ø E
Ø F
L
L1
PME04M03T
4
1/8"
2.6
4.8
21.15
24.3
14.5
PME04M06T
1/4"
7
PME06M03T
6
1/8"
4
4.8
24.25
24.3
14.5
PME06M06T
1/4"
7
PME06M10T
3/8"
9.7
27.25
26.7
18.6
PME06M15T
1/2"
12
32.25
31.7
22.7
PME08M03T
8
1/8"
6
4.8
24.65
24.3
14.5
PME08M06T
1/4"
7
PME08M10T
3/8"
9.6
32.55
26.7
18.6
PME08M15T
1/2"
12
34.55
31.7
22.7
PME10M03T
10
1/8"
8
4.8
28.45
26.7
18.6
PME10M06T
1/4"
7
PME10M10T
3/8"
9.6
PME10M15T
1/2"
12
31.95
31.7
22.7
PME12M03T
12
1/8"
9
4.8
34.4
31.7
22.7
PME12M06T
1/4"
7
PME12M10T
3/8"
9.6
PME12M15T
1/2"
12
Files Download

---
Press Release
2020 Healthcare Expo

Healthcare Expo Taiwan is the first professional expo which connects various sectors such as medical, electronic, biotechnology, and pharmaceuticals.

Read More

Taichun Machine Tool

This exhibition will fully present the domestic machinery industry, industry 4.0 and smart machinery energy and industrial chain.

Read More

International Water

Due to the relevant issues of water across the world, CHIBIN will participant in 2020 Taiwan International Water Week to contribute to the society.

Read More