Spiral Nozzles
NOS
Most nozzles are used in atomizing, air-aspirating, swirling, air jetting, atomized spraying, oil spraying, and sandblasting so on application. It is suitable for cleaning, water curtain, cooling, coating, spraying, defoaming, humidifying, and dust reduction. There are a few factors for selecting a nozzle: spray shape, droplet distribution angle, pressure, flow rate, and materials. The spray shape (or distribution shape) refers to the shape generated on the vertical surface of the spray and the nozzle. Our nozzles line includes flat fan, full cone, and hollow cone based on its spray shapes.
Full cone nozzle series has standard and spiral type. Its spray angles of standard type cover from 50°, 70°, 90°, to 130°. Spray angle of Spiral type is 120°.

Spray angle will vary with the distance and operating pressure. The angle of the nozzle under the standard operating pressure (3 kgf/cm²) is actual spray angle (plus and minus 5 degree). A tolerance of ± 5° must be taken into consideration for designing the spray system.

Flow distribution is varied with pressure and spray height; the lighter the fluid, the higher the pressure, also the more the spray volume.
Features
Suitable for cleaning, water curtain, cooling, coating, spraying, defoaming, humidifying, dust reduction.
Raise outflow speed and control its direction and geometry.
Technical Data
Size / Spray Angle:
(1) Flat Fan: 1/8" ~ 1/2" / 15° ~ 170°
(2) Full Cone: 1/8" ~ 2" / 50° ~ 120°
(3) Hollow Cone: 1/4" ~ 3/8" / 60° ~ 80°
Thread: PT
Material: SUS316
Dimension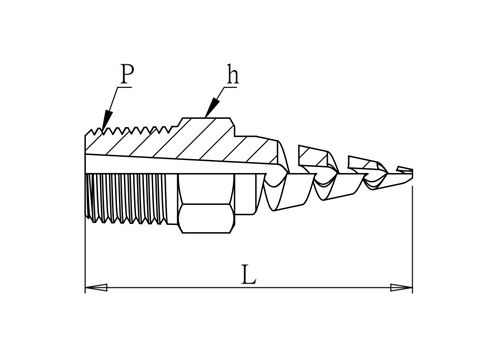 Specification
NOS Spiral Nozzles
Part No
Thread Size
Spray Angle
Dimension
P-PT
L
NOS06T120A
1/4"
120°
46
14
NOS10T120A
3/8"
120°
53
17
NOS15T120A
1/2"
120°
68
22
NOS20T120A
3/4"
120°
80
27
NOS25T120A
1"
120°
98.5
34
NOS32T120A
1-1/4"
120°
112
43
NOS40T120A
1-1/2"
120°
152
49
NOS50T120A
2"
120°
178
61
Files Download
Thread List
M-ISO THREAD(METRIC) & UN/UNF/UNEF & PF(G)THREAD
Download
Spiral Nozzles - Spiral Full Cone Male Thread Nozzle. | Over 40 Years Tube/Pipe Fittings for Medical & Semiconductor Industry Manufacturer | CHIBIN Machine Co., Ltd.
Based in Taiwan since 1980, CHIBIN Machine Co., Ltd. has been a stainless steel pipe fittings manufacturer. Their main pipe and tube fitting products, include Spiral Nozzles, tube fittings, compression fittings, rapid pneumatic fittings, push-in pneumatic fittings, hydraulic fittings, high pressure pipe fittings, quick couplings, nozzle and needle valves, which are specialized in medical and semiconductor sectors.
We have fourteen categories of standard products which have been highly recommended by the customers. Especially tube fittings, quick couplings and push-in pneumatic fittings are with international competitiveness and many foreign buyers continuously place orders. Pipe Fittings that are ISO certified and TTQS awarded. Internal standards using random inspection based on the U.S. military MIL-STD-105E specifications. More than 10,000pcs of standard products are in ready stock. Custom products are up to 3,000pcs. CHIBIN Machine provides one-stop service in developing, designing, manufacturing, and assembling, as well as custom solutions to achieve high standards from worldwide clients.
CHIBIN Machine has been offering customers high-quality pipe and tube fittings since 1980, both with advanced technology and 43 years of experience, CHIBIN Machine sures each customer's demands are met.