One-Way Shutoff Quick Couplings PU Socket (Nylon66)
SPU-NL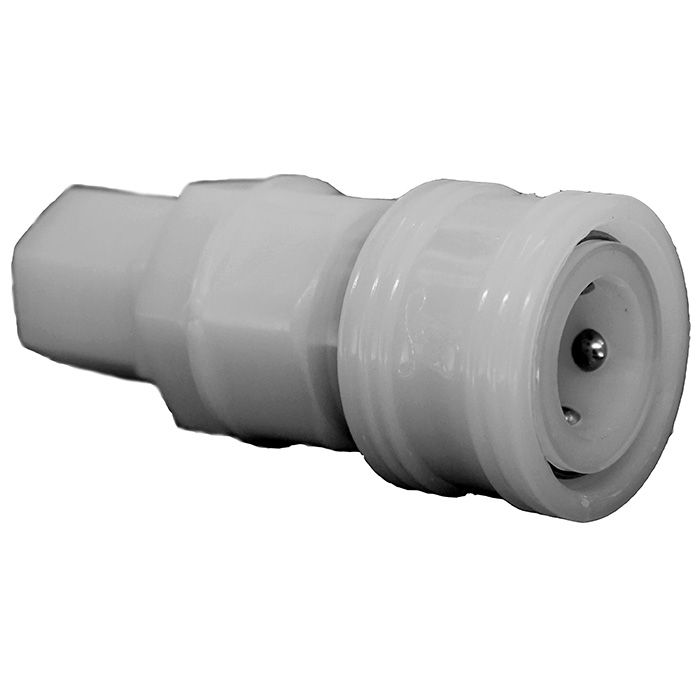 Stainless One-Way Shutoff Quick Couplings (traditional type) - PU Socket and Plug- are suitable for use in air compressor, pneumatic tools, automobile, car washing and shipbuilding industry. A shut-off valve in the socket prevents fluid loss in case of disconnection. Moreover, it's two-hand required for operation of plugs and sockets without turning off the air source switch. Traditional type enables quick connection and disconnection of the fluid to reach the air-tight seal.
One-way shutoff quick coupling type include one touch and tradition. One touch and traditional type include male thread, female thread, PU and hose series.

There are a few different materials, including SUS316, SUS304, steel, and nylon with glass fiber. Stainless features durability, corrosive resistance, high and low temperature resistance as well as anti-oxidation. Steel features longer life than products on the market. Heat treated plugs enhance the impact resistance; hardness up to HRC45 ~ 50. Nylon66 features light weight, drop resistance, toughness, not easy to oxidize, weak acid and alkali resistance, suitable for water.

Quick Couplings, also known as quick connect and disconnect couplings, quick release couplings, include one-way shutoff, two-way shutoff and two-way shutoff (grease type), one touch quick coupling, straight through type, and camlock type.
Features
Light weight.
Drop resistant.
Good ductility.
Not easy to oxidize.
Technical Data
Working Pressure: 15 kgf/cm²
Thread Size (PT): 1/8" ~ 1"
Seal Material: NBR, Viton
Material: SUS304, 316
Specification
SPU-NL One-Way Shutoff Quick Coupling PU Socket (Nylon66)
Part No
Tube OD
Ø
SPU8-NL
8
SPU10-NL
10
SPU12-NL
12
Press Release
2020 Healthcare Expo

Healthcare Expo Taiwan is the first professional expo which connects various sectors such as medical, electronic, biotechnology, and pharmaceuticals.

Read More

Taichun Machine Tool

This exhibition will fully present the domestic machinery industry, industry 4.0 and smart machinery energy and industrial chain.

Read More

International Water

Due to the relevant issues of water across the world, CHIBIN will participant in 2020 Taiwan International Water Week to contribute to the society.

Read More