One Touch Type-Safety Series,One-Way Shutoff Quick Couplings Hose Socket
SH-SO
One-Hand Operation Quick Coupling, One-Hand Operation Quick Coupler, A Quick Release Coupling
Hose Socket, in words, is used to connect to one touch quick coupling of hydraulic hose. Safety Hose Socket of One-Touch Quick Coupling is designed to prevent accidental collision or pulling to cause disconnection. Safety Series of One Touch Quick Couplings-Hose Socket is a Japanese type socket with hose barb end. It will automatically lock when the plug is inserted into the socket. The locking mechanism prevents accidental disconnection. The working pressure withstand up to 30kg/cm².
It is manufactured of stainless steel. The material features rust resistance, resistant corrosion, durability, and toughness so on.
Installation Instruction
Lock - Insert the plug into the socket, it will automatically lock.
Unlock - Turn the outer ring of the socket clockwise to the bottom and pull out to separate.
Features
Safe and automatic locking mechanism.
Labor-saving.
Easy Installation and disassembly.
Patent protection.
Technical Data
Working Pressure: 30kgf/cm²
Material: SUS304
Hose ID: 1/4" ~ 1/2"
Seal Material: Viton
Dimension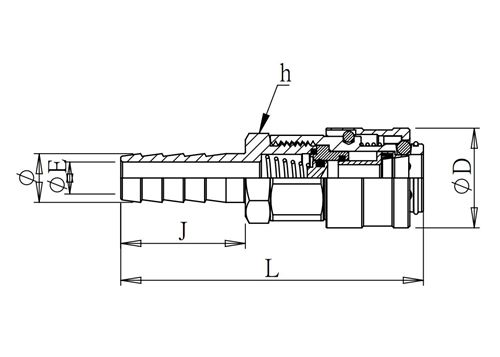 Specification
SH-SO Safety One Touch Quick Couplings Hose Socket
Part No
Hose ID
Dimensions
h
Ø E
Ø
J
Ø D
L
SH2-SO
1/4"
4.5
7
25
28
75
22
SH25-SO
5/16"
5
9
25
28
75
22
SH3-SO
3/8"
7.5
10.5
30.5
28
80.5
22
SH4-SO
1/2"
9
13.7
35
28
85
22
Related Products
Thread List
M-ISO THREAD(METRIC) & UN/UNF/UNEF & PF(G)THREAD

Download
40-Year One Touch Type-Safety Series,One-Way Shutoff Quick Couplings Hose Socket Manufacturer - CHIBIN Machine
Based in Taiwan, CHIBIN Machine Co., Ltd., since 1980, is a One Touch Type-Safety Series,One-Way Shutoff Quick Couplings Hose Socket | stainless steel pipe fittings supplier. Specialized in medical and semiconductor industries and the main products, including tube fitting, compression fitting, rapid pneumatic fitting, push-in pneumatic fitting, hydraulic fitting, high pressure pipe fitting, quick coupling, nozzle, needle valve, etc.
Pipe Fittings that are ISO certified and TTQS awarded. Internal standards using random inspection based on the U.S. military MIL-STD-105E specifications. More than 10,000pcs of standard products are in ready stock. Custom products are up to 3,000pcs. CHIBIN Machine provides one-stop service in developing, designing, manufacturing, and assembling, as well as custom solutions to achieve high standards from worldwide clients.
CHIBIN Machine has been offering customers high-quality pipe and tube fittings since 1980, both with advanced technology and 40 years of experience, CHIBIN Machine sures each customer's demands are met.