One Touch Type-Safety Series,One-Way Shutoff Quick Couplings Hose Socket
SH-SO
One-Hand Operation Quick Coupling, One-Hand Operation Quick Coupler, A Quick Release Coupling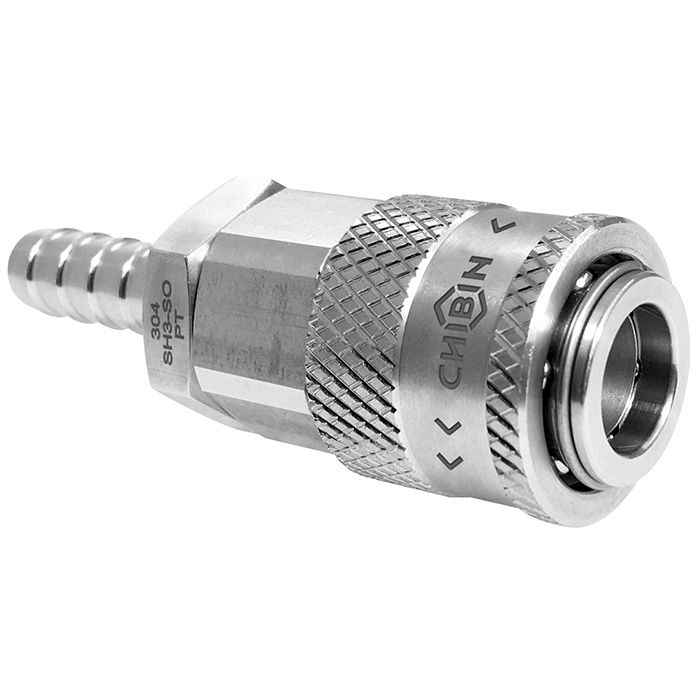 Stainless steel automatic locking quick coupling, One-hand operating quick coupling for pneumatic tools.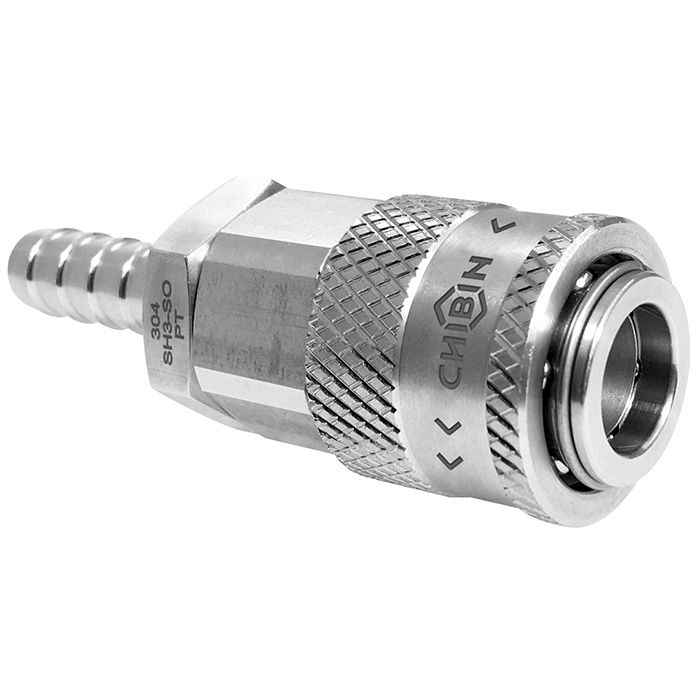 Safety Series of One Touch Quick Couplings-Hose Socket is a Japanese type socket with hose end. It will automatically lock when the plug is inserted into the socket. The locking mechanism prevents accidental disconnection. The working pressure has been risen to 30kg/cm²
One Touch Quick Couplings are classified into female thread socket, male thread socket, and hose socket. It is manufactured of stainless steel. The material features rust resistance, resistant corrosion, durability, and toughness so on.

Quick Couplings include one-way shutoff, two-way shutoff and two-way shutoff (grease type), one touch quick coupling, straight through type, and camlock type.
Installation Instruction
Lock - Insert the plug into the socket, it will automatically lock.
Unlock - Turn the outer ring of the socket clockwise to the bottom and pull out to separate.
Features
Safe and automatic locking mechanism.
Labor-saving.
Easy Installation and disassembly.
Patent protection.
Technical Data
Working Pressure: 30kgf/cm²
Material: SUS304
Hose ID: 1/4" ~ 1/2"
Seal Material: Viton
Dimension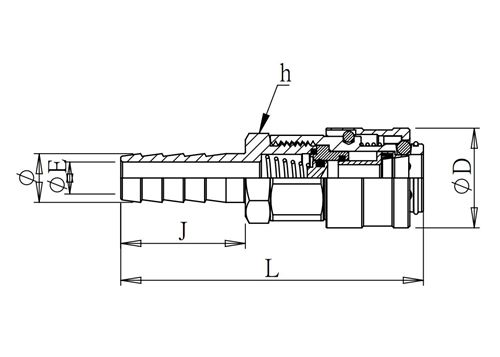 Specification
SH-SO Safety One Touch Quick Couplings Hose Socket
Part No
Hose ID
Dimensions
h
Ø E
Ø
J
Ø D
L
SH2-SO
1/4"
4.5
7
25
28
75
22
SH25-SO
5/16"
5
9
25
28
75
22
SH3-SO
3/8"
7.5
10.5
30.5
28
80.5
22
SH4-SO
1/2"
9
13.7
35
28
85
22
Press Release
2020 Healthcare Expo

Healthcare Expo Taiwan is the first professional expo which connects various sectors such as medical, electronic, biotechnology, and pharmaceuticals.

Read More

Taichun Machine Tool

This exhibition will fully present the domestic machinery industry, industry 4.0 and smart machinery energy and industrial chain.

Read More

International Water

Due to the relevant issues of water across the world, CHIBIN will participant in 2020 Taiwan International Water Week to contribute to the society.

Read More