316 Stainless Steel Tube Fittings Reducing Union Tee
RUT
316 stainless steel two ferrules tube fittings reducing union tee, 316 stainless steel double ferrules compression tube fitting reducing union tee, 316 ferrules reducing union tee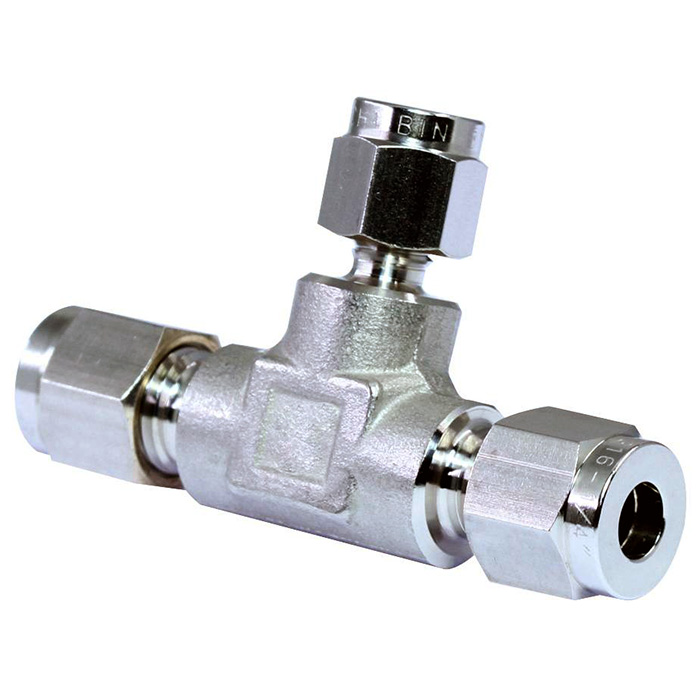 316 stainless steel tube fitting reducing union tees are widely used in instrumentation, liquid and gas tubing. They are suitable for food and medical equipment after special treatment.
Tube fitting reducing union tees present T shape.
Reducer union tees used as the diversion port enable liquid and gas to change the flow direction to 90-degree or 180-degree in pipelines. The parallel ends of reducing union tee are for connecting same diameter of tube. Branch end is for different size of tube connection.

All parts of tube fittings are made of 316 stainless steel, constructed by body, back and front ferrules, and nut. CHIBIN provides various configurations of tube fittings for selection, including straights, 90-degree elbows, tees, bulkheads, nuts, ferrules, plugs, and caps. Nut threads are electroplated to prevent wear and improve smoothness for easier installation.
Features
Double-ferrule metal to metal sealing with free leakage design.
Nut threads are electroplated to reach wear resistance.
316 stainless steel material features resistance to heat, impact, and corrosion.
Technical Data
Working Pressure:
(1) 1/2 inch (12mm) Below: 210 kgf/cm²
(2) 3/4 inch (19mm) Above: 100 kgf/cm²
Suitable Tube O.D.: 1/8 ~ 1 inch ; 3 ~ 25mm
Thread: PT, NPT, M
Customized size is also acceptable.
Application
Suitable for Instruments, Meters, Piping Engineering, Low Pressure and High Temperature Pneumatic Pipelines, Medical Equipment, Agricultural Appliances, Mechanical Parts Assembly, Food Industry, Chemical Plant, Petrochemical Plant, Water Treatment Industry.
Specification
RUT Tube Fittings Reducing Union Tee
Part No
Tube OD
Dimensions
H
H1
h
Ø
Ø 1
Ø E
Ø E1
F
F1
L
L1
RUT08M06M08M
8
6
6.4
4.8
16.2
15.5
30.9
31
16
14
14.5
RUT Tube Fittings Reducing Union Tee
Part No
Tube OD
Dimensions
H
H1
h
Ø
Ø 1
Ø E
Ø E1
F
F1
L
L1
RUT60I40I60I
3/4"
1/2"
16
10.5
24.6
23
45.8
46
28.6
22
27.5
Files Download

---
Press Release
2020 Healthcare Expo

Healthcare Expo Taiwan is the first professional expo which connects various sectors such as medical, electronic, biotechnology, and pharmaceuticals.

Read More

Taichun Machine Tool

This exhibition will fully present the domestic machinery industry, industry 4.0 and smart machinery energy and industrial chain.

Read More

International Water

Due to the relevant issues of water across the world, CHIBIN will participant in 2020 Taiwan International Water Week to contribute to the society.

Read More