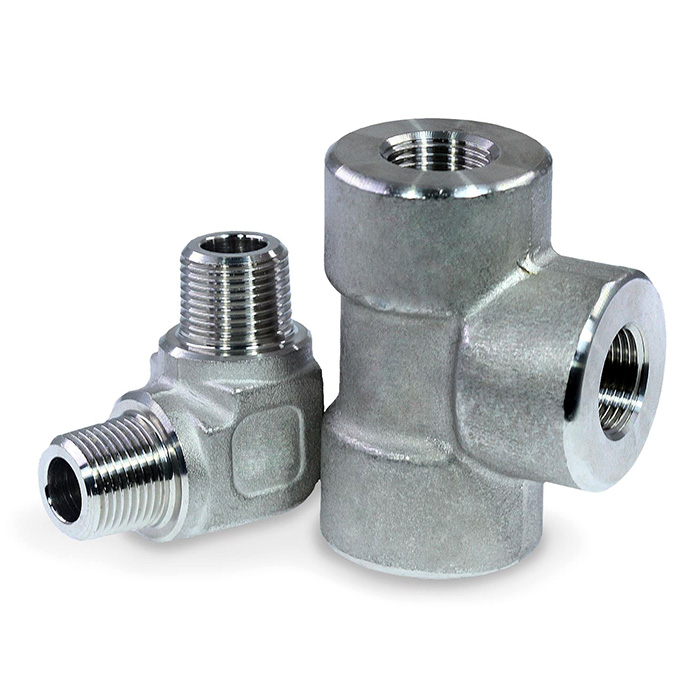 Pipe Fittings & High Pressure Pipe Fittings
Pipe Fittings are, also known as pipe components, pipe adapter, used for piping connection, size changes, and directional changes in pipe systems. Thread size is most important size for pipelines. Taper Pipe thread (PT) is produced according to JIS B 0203, ISO7/1. American National Standard Taper Pipe Threads (NPT) is made based on ANSI/ASME B1.20.1. High Pressure Pipe Fittings are made from stainless forged parts or stainless bar stock. Forged pipe fittings withstand pressure up to 3000PSI.
---
Pipe Fittings series can be categorized based on dimensions, configurations, and external / internal taper threads. Our Pipe Fittings include Plugs, (Bulkhead)Couplings, Elbows, Adapters, Street Elbows, Barbed Hose Elbows/Connectors, Tees, Caps, Socket Weld Couplings and so on. Street Fittings feature connecting inside and outside threads at different ends. To reach excellent seal, PT or NPT is better applied by seal glue or thread seal tape before installation. High-pressure Pipe Fittings are Taper Internal Thread or Socket Welding to connect Taper External Thread or use welding to connect pipe.
Our Strenghs
A full range of standard fittings in stock to meet your urgent needs
High Quality and competitive price
Provide the design, production, and assembly of custom products
Good service attitude, flexible communication
A wide range of product lines
Specification
Thread Size: 1/8" ~ 2" PT
Structure Material: SUS304, SUS316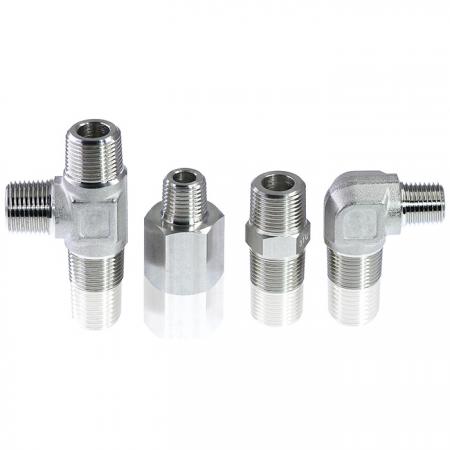 Pipe fitting series is used in piping connection of liquid, gases and suitable for equipment...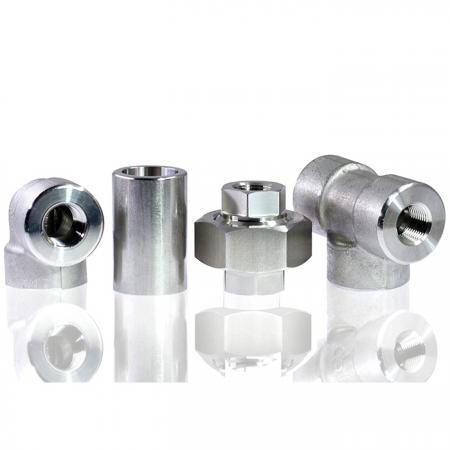 High Pressure Pipe Fitting Series is used in connecting pipe. It has female thread and socket...
Thread List
M-ISO THREAD(METRIC) & UN/UNF/UNEF & PF(G)THREAD

Download
40-Year Pipe Fittings & High Pressure Pipe Fittings Manufacturer - CHIBIN Machine
Based in Taiwan, CHIBIN Machine Co., Ltd., since 1980, is a Pipe Fittings & High Pressure Pipe Fittings | stainless steel pipe fittings supplier. Specialized in medical and semiconductor industries and the main products, including tube fitting, compression fitting, rapid pneumatic fitting, push-in pneumatic fitting, hydraulic fitting, high pressure pipe fitting, quick coupling, nozzle, needle valve, etc.
Pipe Fittings that are ISO certified and TTQS awarded. Internal standards using random inspection based on the U.S. military MIL-STD-105E specifications. More than 10,000pcs of standard products are in ready stock. Custom products are up to 3,000pcs. CHIBIN Machine provides one-stop service in developing, designing, manufacturing, and assembling, as well as custom solutions to achieve high standards from worldwide clients.
CHIBIN Machine has been offering customers high-quality pipe and tube fittings since 1980, both with advanced technology and 40 years of experience, CHIBIN Machine sures each customer's demands are met.