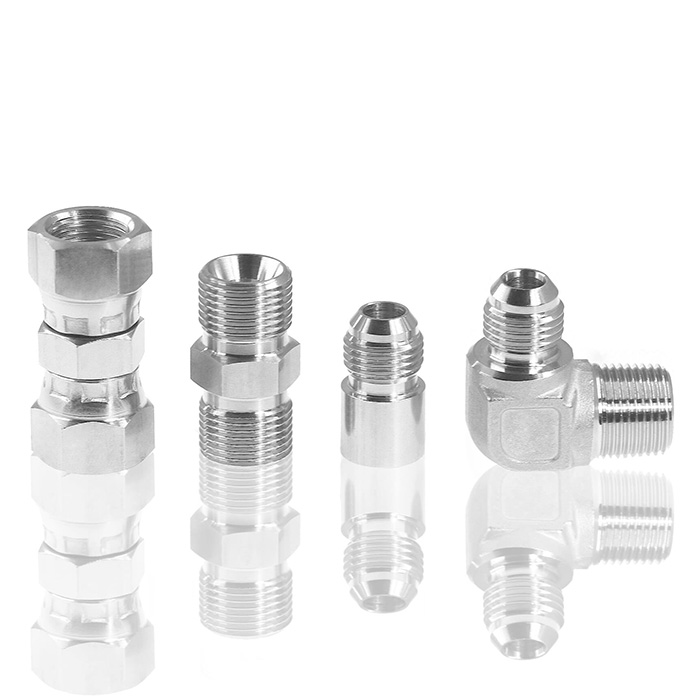 Hydraulic Fittings / Swivel Fittings / Crimp Hose Fittings
Hydraulic fittings are used for piping and tubing in the high-pressure systems such as hydraulic systems, fluid power systems, chemical processing systems. JIC/JIS flared fittings are suitable for construction and mining equipment, agricultural equipment, oil and gas industry, plumbing applications as well as factory applications like assembly lines, presses, robotics. Our taper design includes 37° and 30° degree. The fitting end is with Flare or Cone seat. Hydraulic Fittings, swivel fittings, crimp hose fittings are also available.
---
Hydraulic straight fittings are made from stainless bar stock. Elbows and Tees are made from stainless forgings. Hydraulic fittings adopt the metal to metal sealing of taper design to reach crack resistance without consideration to the fluid and temperature. Flared fitting with O-ring groove design is also available. After adding O-ring design on the taper, JIC 37° Flare fittings will have much better air tightness and make future maintenance more worry-free.
Our Strenghs
A full range of standard fittings in stock to meet your urgent needs
High Quality and competitive price
Provide the design, production, and assembly of custom products
Good service attitude, flexible communication
A wide range of product lines
Thread List
M-ISO THREAD(METRIC) & UN/UNF/UNEF & PF(G)THREAD

Download
40-Year Hydraulic Fittings / Swivel Fittings / Crimp Hose Fittings Manufacturer - CHIBIN Machine
Based in Taiwan, CHIBIN Machine Co., Ltd., since 1980, is a Hydraulic Fittings / Swivel Fittings / Crimp Hose Fittings | stainless steel pipe fittings supplier. Specialized in medical and semiconductor industries and the main products, including tube fitting, compression fitting, rapid pneumatic fitting, push-in pneumatic fitting, hydraulic fitting, high pressure pipe fitting, quick coupling, nozzle, needle valve, etc.
Pipe Fittings that are ISO certified and TTQS awarded. Internal standards using random inspection based on the U.S. military MIL-STD-105E specifications. More than 10,000pcs of standard products are in ready stock. Custom products are up to 3,000pcs. CHIBIN Machine provides one-stop service in developing, designing, manufacturing, and assembling, as well as custom solutions to achieve high standards from worldwide clients.
CHIBIN Machine has been offering customers high-quality pipe and tube fittings since 1980, both with advanced technology and 40 years of experience, CHIBIN Machine sures each customer's demands are met.