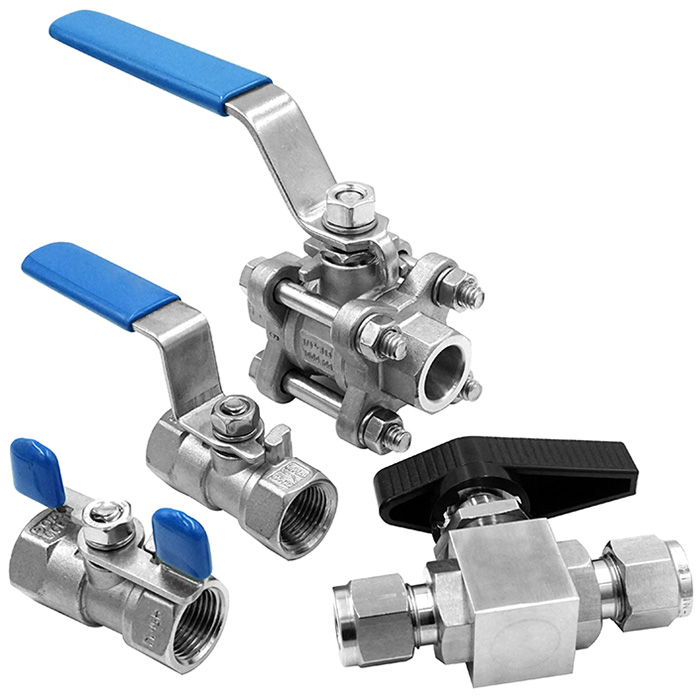 Ball Valves
Ball Valves are widely used in production equipment of petroleum and natural gas as well as fuel gas system tank. It is mainly used to switch off in piping, distribute and change the flow direction of medium. 90° turning to fast switch on and off.
---
CHIBIN ball valve have two types:
(1) Tube Ball Valve: Also known as two-ferrule tube ball valve. It features reliable air tightness. It is suitable for use in switch-off and adjustment.
(2) 1-PC Female Ball Valve: One piece, it is composed of ball, iron, TEFLON seal, and locknut. Ball O.D. is smaller than pipe O.D.
(3) 2-PC Female Ball Valve: It is two-part valve. Excellence air tightness, easy to take off.
(4) 3-PC Female Ball Valve: It is three-part component. It is easy to take off for maintenance.
The handle of 1-PC and 2-PC Ball Valve provides normal type and butterfly handle for selection.
Specification
Connection: Male thread, Female thread, Tube, Barbed hose
In need of other material, dimension, thread, please contact CHIBIN.
Thread List
M-ISO THREAD(METRIC) & UN/UNF/UNEF & PF(G)THREAD

Download
40-Year Ball Valves Manufacturer - CHIBIN Machine
Based in Taiwan, CHIBIN Machine Co., Ltd., since 1980, is a Ball Valves | stainless steel pipe fittings supplier. Specialized in medical and semiconductor industries and the main products, including tube fitting, compression fitting, rapid pneumatic fitting, push-in pneumatic fitting, hydraulic fitting, high pressure pipe fitting, quick coupling, nozzle, needle valve, etc.
Pipe Fittings that are ISO certified and TTQS awarded. Internal standards using random inspection based on the U.S. military MIL-STD-105E specifications. More than 10,000pcs of standard products are in ready stock. Custom products are up to 3,000pcs. CHIBIN Machine provides one-stop service in developing, designing, manufacturing, and assembling, as well as custom solutions to achieve high standards from worldwide clients.
CHIBIN Machine has been offering customers high-quality pipe and tube fittings since 1980, both with advanced technology and 40 years of experience, CHIBIN Machine sures each customer's demands are met.